Full recap of Techstars NYC Fall 2015 Demo Day
On December 17th Techstars NYC graduated 14 companies. The Demo Day took place at the beautiful Skirball Theater in NYU.
The venue was packed – over 700 angel investors, VCs, reporters, mentors, Techstars alumni and members of NYC tech community were in attendance. We were also very fortunate to have Fred Wilson as a speaker.
Here is the full recap of the event.
I opened the event to welcome all the attendees. The energy was incredible. For me, it was a particularly great moment, because I couldn't wait to share with everyone just how much progress the companies made in the last 13 weeks.
Flip
First to present was Susannah Vila, CEO of Flip.
Flip simplifies the experience of renting housing by turning leases into liquid assets that people can buy and sell from one another. Flip has been really resonating with NYC renters. The company is seeing 35% WoW growth in leases posted and now has over 500 on the platform. Watch Flip's pitch below.
Click to tweet Flip Demo Day Pitch
GreatHorn
Kevin O'Brien, CEO of GreatHorn and the cyber security veteran, took the stage next.
GreatHorn is a cloud security platform that helps detect and prevent spear phishing and credential theft attacks in realtime. GreatHorn relies on machine learning engine to flag intruders before the breach happens. To date they've protected 16 million emails from over 6 thousand mailboxes. GreatHorn has 12 customers in production and since October generated 50K in ARR. GreatHorn also secured significant distribution partnership with Microsoft.To learn more about GreatHorn read my interview with the CEO, Kevin O'Brien. Watch GreatHorn's pitch below.
Click to tweet GreatHorn Demo Day Pitch.
Gorgias
Next on stage was Romain Lapeyre, CEO of Gorgias, a Techstars company from Paris, France.
Gorgias is an automated helpdesk enabling companies to respond faster to customers. Gorgias enables agents to respond to requests 2x faster. As a result, customers wait less. Gorgias uses machine learning to figure out what response makes sense. The company have already analyzed over 18 million emails. Gorgias has 80 customers including ClassPass, Plated and Kinnek. To learn more about Gorgias read my interview with the CEO Romain Lapeyre. Watch Gorgias's pitch below.
Click to tweet Gorgias Demo Day Pitch
Homemade
Nick Devane, CEO of Homemade was on stage next. Nick was previously a Techstars associate, and it was incredible to see him on stage as the CEO of a Techstars company.
Homemade builds tools for home cooks to sell directly to their customers on mobile. Homemade already has 60 cooks selling over 350 different types of meals. The company has generated 30K in revenue in the last 3 months and has been growing sales 3x MoM. To learn more about Homemade read my interview with the CEO, Nick Devane. Watch Homemade's pitch below.
Click to tweet Homemade Demo Day Pitch
GlossGenius
Danielle Cohen-Shohet, a Goldman engineer turned startup CEO, took the stage next to pitch GlossGenius.
GlossGenius is a smart, automated personal assistant that helps beauty professionals manage and grow their businesses. Gloss has been growing 2x MoM and is now used by  800 stylists. Gloss helps stylists make 50% more money, and increased appointments booked on the platform by 35% MoM. Gloss now is reaching over 1MM people. To learn more about GlossGenius read my interview with the CEO Danielle Cohen-Shohet. Watch Gloss Genius's pitch below.
Click to tweet GlossGenius Demo Day Pitch
After that KJ Singh, a Director at Techstars took the stage to thank our sponsors, speakers and mentors.
Mentors in residence and top mentors were awarded exclusive Golden shirts.
LiveLike
Next group of companies presentations were led by Andre Lorenceau, CEO of LiveLike
LiveLike is a virtual reality live-sports viewing platform that transports fans into stadiums with friends from anywhere in the world. LiveLike is building plug-and-play platform for broadcasters such as NBA and ESPN, to broadcast live games in real-time. LiveLike has partnered with EuroSport and Canal+ to stream first ever live games in virtual reality in early 2016. The company is in conversation with over 20 other partners to bring live sports in VR to their viewers. To learn more about Live Like read my interview with the CEO, Andre Lorenceau. Watch LiveLke's pitch below.
Click to tweet LiveLike Demo Day Pitch
Jewelbots
Next on stage was Sara Chipps, CEO of Jewelbots, who was here to share her dream of empowering girls to become engineers.
Jewelbots are programmable friendship bracelets designed to inspire future engineers. Jewelbots form a mesh network and allow girls send secret messages to each other. Since launching pre-sales in August Jewelbots sold $200K worth of product growing sales 3x MoM. Jewelbots is also announcing a major partnership with Cartoon Network and Google.
Click to tweet Jewelbots Demo Day Pitch
Mona
Orkun Artik, CEO of Mona, took the stage next to talk about the future of AI and mobile shopping.
Mona is an artificial intelligence based personal shopping assistant that learns customer preferences and simplifies the mobile shopping experience. Mona has 6K active beta customers. The customers are using Mona on average 3 times a week, and have 15% add to cart rate. To learn more about Mona read my interview with the CEO, Orkun Atik. Watch Mona's pitch below.
Click to tweet Mona Demo Day Pitch
Sailo
Adrian Gradinaru, CEO of Sailo, was on stage next to talk about the benefits of life at sea.
Sailo is an online marketplace that connects people who want to rent boats to boat owners, charter operators and licensed captains. Sailo is has 800 boats in NYC and Miami and have been growing the boats 40% on average per month. Sailo generated $200K in revenue and is expanding to Caribbean and Europe next year. To learn more about Sailo read my interview with the CEO, Adrian Gradinaru. Watch Sailo's pitch below.
ImpactHealth
Christine Carrillo, CEO of ImpactHealth and a healthcare expert, took the stage next.
Impact Health helps consumers select and buy optimal health insurance. Impact Health is a licensed broker and has developed a smart algorithm that takes into consideration every available plan and matches it against customer's needs. In the last 3 months, Impact Health got 500 customers and is generating $6K in MRR. Average customer saves $4K a year. To learn more about Impact Health read my interview with the CEO, Christine Carrillo. Watch ImpactHealth's pitch below.
Click to tweet ImpactHealth Pitch
Ari Newman, Partner at Techstars took the stage next. Ari gave an update on the global Techstars ecosystem.
Morsel
Final group of companies was led by Jason Baptiste, CEO of Morsel. Jason previously was the CEO of OnSwipe that went through the first Techstars program in NYC.
Morsel makes wellness accessible through healthy and delicious lunches for companies. Morsel delivers healthy lunches to dozens of companies in NYC. Jason Baptiste, CEO of Morsel, was previously part of Techstars NYC 2011 class as a co-founder of OnSwipe. Since launching 9 weeks ago Morsel generated over $30K in booked MRR. Last week, Morsel sold $100K in ARR in one day. Watch Morsel's pitch below.
SPIDR
Next on stage was Rahul Sidhu, former police officer and now CEO of SPIDR.
SPIDR is a platform that transforms law enforcement agencies into data-driven police organizations through data intelligence and analytics. SPIDR's platform aggregates data from separate  existing systems and enables applications such as Patrol Metrics and Community Engagement. SPIDR has 4 pilot departments including Newark PD and 30 more on the waitlist. To learn more about SPIDR read my interview with the CEO Rahul Sidhu. Watch SPIDR's pitch below.
MAX
Adetayo Bamiduro, CEO of MAX, the first ever Techstars NYC company from Africa, took the stage next.
MAX is a 3-hour delivery platform for retail in Africa. They utilize delivery apps and a fleet of motorcycles to deliver packages across Lagos, Nigeria. Since starting just a few months ago, MAX has grown 20x and now delivers more than 100 packages every day. MAX has signed up over 100 merchants, including Jumia – the Amazon of Africa. MAX team just won runner-up prize at TechCrunch Disrupt in London.
Slash
And last, but not least, Cem Kozinoglu, CEO of Slash, delivered his pitch.
Slash is a mobile search engine built inside the keyboard. Slash makes it easy to share places, links, tweets, photos, stickers, gifs, and more all without switching apps. Slash has been named top keyboard by Business Insider and Cult of Mac, and has been voted up to the top of Product Hunt. Slash has 150K downloads and reached 1MM searches.
Fred Wilson took the stage next to talk about the future of engineering and computer science education in NYC.
Here is Fred's talk:
We wrapped up the event by calling all the presenting companies on stage. It was incredible energy and incredible sense of accomplishment.
Tweets
Here are some of the tweets that we tagged during the Demo Day:
https://twitter.com/bernyau/status/677504754835193856
And last but not least, we've asked the founders if they would recommend Techstars to other companies. Here is what they said verbatim:
Good luck, Techstars NYC Fall 2015!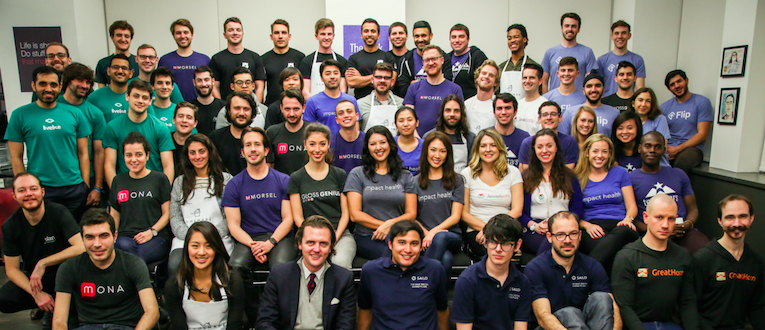 Engineer, Immigrant. Vegan. 3x Founder, Managing Partner @2048vc. Previously ran @techstars in NYC. I write #startuphacks: http://alexiskold.net .